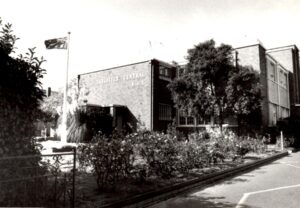 In 1972 a number of Caulfield residents had a strong interest in the history of the City. In May of that year Mr Trevor J Hart, a South Caulfield resident wrote to the Mayor, Cr Fred A Arden suggesting a public meeting be called with a view to forming an Historical Society. Cr Arden placed advertisements in the Southern Cross and Chadstone Progress newspapers for a Public Meeting to be held at the Town Hall on 12 July 1972.
The Public Meeting led to the formation of the Caulfield Historical Society. Its inaugural meeting, held at the Caulfield Town Hall on 13 September 1972, was attended by 65 interested persons. A Committee of eleven was elected, with the Mayor of Caulfield (then Cr W R Walters), Patron, Mr Ken A R Horn, President and Mr Trevor J Hart, Secretary. Cr Fred A Arden was made an Honorary Life Member, the first for the Society. In December 1972 the Society had 32 members.
Since its formation, the Society has been affiliated with the Royal Historical Society of Victoria.
The Society records were initially stored privately. In 1974 they were moved into the 'old Post Office' opposite the Caulfield Town Hall in Hawthorn Road. They were moved again in the early 1980s to a room at Caulfield Central RSL, 169 Hawthorn Road, Caulfield. In the mid-1980s a large room was made available at the RSL for the exclusive use of the Society to store and exhibit its possessions. This was the first time there was space for exhibits. The room was open for members and friends on Tuesdays from 2.00pm to 4.30pm.
Following sale of the Caulfield Central RSL's premises, all records were put into storage from 1989 to 1991 until a Reference and Study Centre was made available at the Caulfield Town Hall.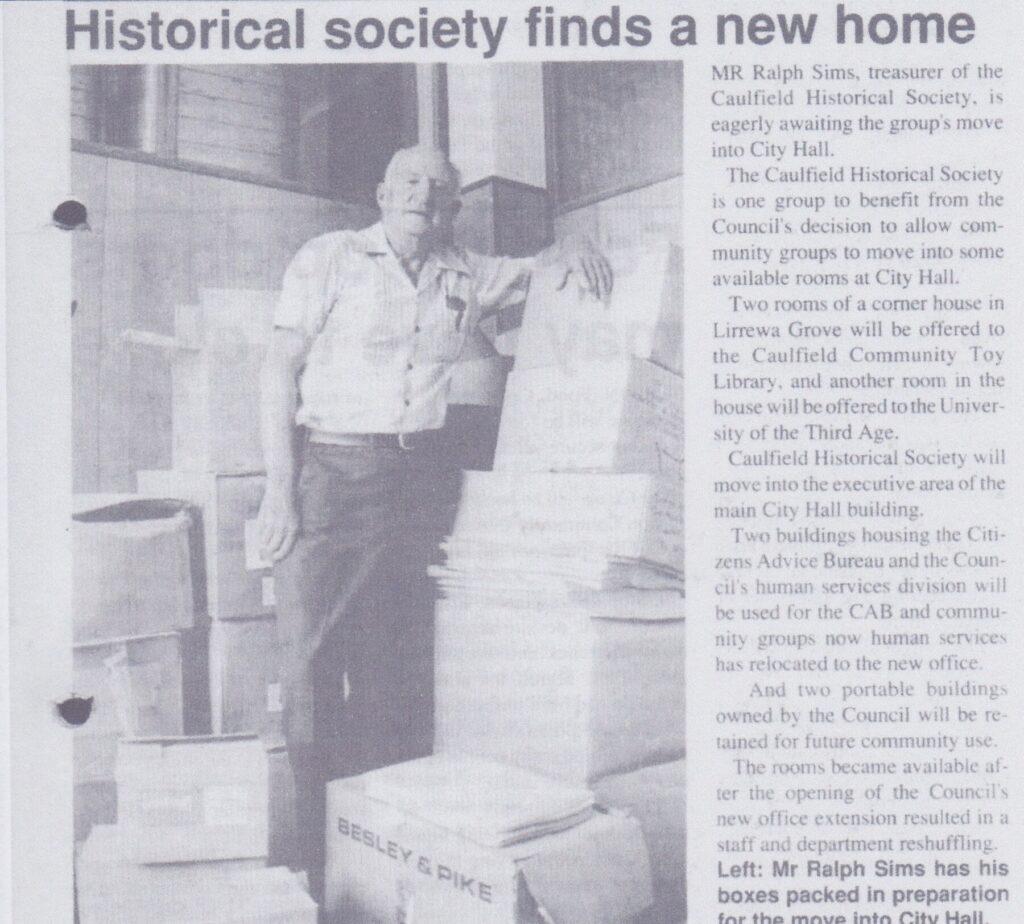 The Society moved again in 1999, this time to a brick building in Bailey Reserve, East Boundary Road, East Bentleigh. In 2009 this building was to be demolished for the new Glen Eira Sports and Aquatic Centre and the Society moved to its current premises at 965 Glen Huntly Road, Caulfield.
Meetings with interesting guest speakers are held several times each year. The first meetings were held either in various meeting rooms in the Caulfield Town Hall or in the 'old Post Office'. From 1999 to 2009 meetings took place in the Society's room in Bailey Reserve and then in 2009 they relocated to the Boyd Room at the Carnegie Library. Since 2019 they have been held in the Caulfield Cup Room at the Glen Eira Town Hall.
Following the merger of part of the City of Moorabbin with the City of Caulfield to form the City of Glen Eira in December 1994, the name of the Society was changed to Glen Eira Historical Society in 2000.
Newsletters under the name of the Caulfield Historical Society were published from 1972 to 2000, and from 2013 under the name Glen Eira Historical Society.
(Written by Colin Kirkham, GEHS member, September 2020)