Visit Us
Commencing Tuesday 1 February 2022 we will be open by appointment only on Tuesdays. Appointments at other times may be arranged.
Protecting the health of our volunteers and visitors is our top priority. Masks must be worn indoors, and visitors aged 16 years and over must be fully vaccinated against COVID-19 or have a valid medical exemption.
Please email for an appointment.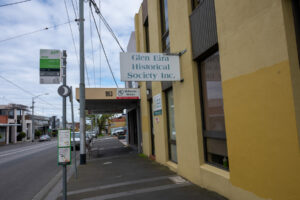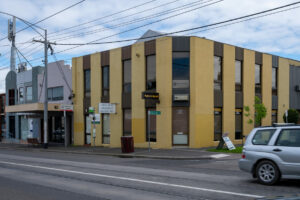 In 1935 our building looked like this –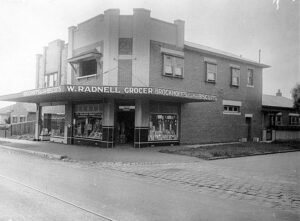 W Radnell Grocer c1935, corner of Fallon St and Glen Huntly Rd, site of GEHS today. (Source Museums Victoria)
Our Collection
We have the largest and most comprehensive collection of material relating to the history of Glen Eira. Our collection is a valuable resource for those researching the history of their house and suburb, for family historians, students and other researchers. Some of our collection can viewed via the Victorian Collections link below.
For research enquiries contact us any time. Email is best but you can also leave a phone message.
Latest News
1. Newsletter
Issue 28 of our newsletter has just been published Issue 28 – July 2022
Features articles on GEHS 50th anniversary celebration, artists Neil Douglas and Abbie Heathcote, The Steak Bank Restaurant, Weights and Measures, Heritage Matters and more.
2. It Was the Best of Times…
The PMI's 2022 Bruce Turner Presentation proudly presented by a member of the Cinema and Theatre Historical Society of Australia (CATHS), Ross Campbell.
TUESDAY 9TH AUGUST, 7-8PM
PMI VICTORIAN HISTORY LIBRARY
39 ST EDMONDS RD PRAHRAN VIC 3181
Ross traces the story of his lifetime involvement in cinema that begins with his film-loving parents setting up home in South Caulfield, just two streets away from where massive foundations were being laid for an impressive art deco moderne picture theatre, The Camden. In 1936 The Camden screened Metro-Goldwyn-Mayer's super production, A TALE OF TWO CITIES, starring Ronald Colman as Sidney Carton. It was the first of many memorable screenings Ross's parents and siblings would encounter in that beautiful building over their lifetime.
Bookings and to find out more –
https://mailchi.mp/93b2e1c591e4/bruce-turner-presentation?e=3f4a156474
3. Katharine Susannah Prichard (1883-1969)
In 2015 Nathan Hobby visited GEHS to talk about his PhD, a bio of the novelist Katharine Susannah Prichard (1883-1969). He wrote an article, Forgotten Roots: Katharine Susannah Prichard in Glen Eira for our newsletter in July of that year, reproduced below.
Katharine's early years were spent in the Caulfield area but for most of her life she lived in Perth. Now in 2022 Nathan Hobby has written a book, The Red Witch: A biography of Katharine Susannah Prichard which we look forward to reading.
A recent review of The Red Witch by Ian Syson in The Age (23 July 2022) refers to a woman of contradictions "…the Communist from middle-class Caulfield, the skilled romantic novelist who crowbarred socialist realist dialogue into her work…the home builder who always needed to travel…"
Forgotten Roots: Katharine Susannah Prichard in Glen Eira
by Nathan Hobby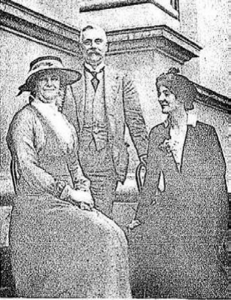 Prichard (Right) with Premier, Sir Alexander Peacock and Lady Peacock.
"An Australian Novelist Honoured" Punch, 9 March 1916. Retrieved May 15, 2015, from http://nla.gov.au/nla.news-article130037837
The Glen Eira roots of the great Australian novelist, Katharine Susannah Prichard (1883–1969) are often overlooked because she was born in Fiji and lived the last fifty years of her life in Perth.
Yet most of her formative years were spent in Caulfield South, Ormond, and Brighton. These years are crucial to my PhD, a biography of Prichard's early life, and I am grateful for the warm welcome from the Glen Eira Historical Society on my recent trip to Melbourne.
Prichard's maternal grandparents, Simon and Susan Fraser, lived for many decades in a house called Clareville on the corner of North Rd and Booran Rd, the site of the present day Ormond Uniting Church. Fraser Street is named after them. It was this house Katharine came to live in 1887 with her mother and brothers. After a stint in Tasmania, the family lived in two other houses on North Rd from 1895 to 1907.
After years of job instability and depression, Katharine's father, the journalist and writer Thomas Henry Prichard, hung himself in the back shed in 1907. Buried in Brighton General Cemetery, he is the author of one novel, Retaliation: A Tale of Early Melbourne.
Katharine was living next door to the girl who became her best friend, Hilda Bull, later a prominent doctor and theatre producer with her husband Louis Esson. Their remarkable circle of teenage friends also included Nettie Higgins (later Palmer) – a prominent literary identity – and the socialist lawyer Christian Jollie-Smith.
Prichard wrote about her Glen Eira [Caulfield] years in her autobiography, Child of the Hurricane (1963). She was to finally write her only novel set in Melbourne, Subtle Flame,in 1967 at the age of eighty-three, turning to the setting of her youth at the end of her life.
About Us
Founded in 1972 the Caulfield Historical Society's early work led to significant buildings such as Myoora, Halstead and Lirrewa gaining heritage protection at a time when many historic buildings were under threat of demolition.
In 1994, the City of Caulfield merged with the northern part of the City of Moorabbin and became the new City of Glen Eira. Some years later the Caulfield Historical Society changed its name to the Glen Eira Historical Society, to reflect the whole municipality of Glen Eira. View Map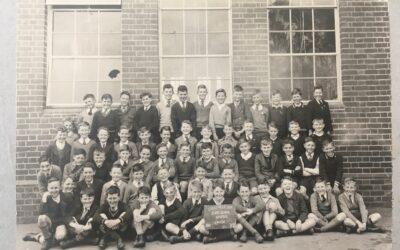 This year marks 150 years of public education in Victoria 1872-2022. Find out more on the...