Visit Us
We are open from 9am-12pm on  Tuesdays. Other times may be arranged. Please  contact us for an appointment.
Protecting the health of our volunteers and visitors is our top priority. Face masks are required to be worn in our premises.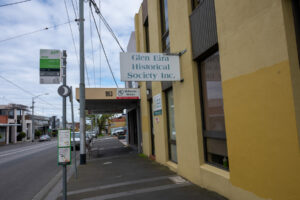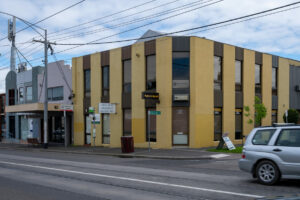 In 1935 our building looked like this –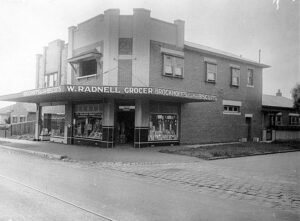 W Radnell Grocer c1935, corner of Fallon St and Glen Huntly Rd, site of GEHS today. (Source Museums Victoria)
Our Collection
We have the largest and most comprehensive collection of material relating to the history of Glen Eira. Our collection is a valuable resource for those researching the history of their house and suburb, for family historians, students and other researchers. Some of our collection can viewed via the Victorian Collections link below.
For research enquiries contact us any time. Email is best but you can also leave a phone message.
Latest News
Newsletter
Our March newsletter is now available and acknowledges Women's History Month with a story on Mary Gilbert the Mother of Melbourne. Also an article on some of the families who lived at 494 Glen Huntly Rd, Elsternwick, now Cabrini.
Reports on: local heritage issues, a talk by Barbara Minchinton on her book The Women of Little Lon, a visit to GEHS by Peter Murray co-author of From Sand Swamp and Heath… a history of Caulfield and more.
Click here to read Issue 30 March 2023 Glen Eira Historical Society Newsletter
Caulfield Racecourse
After lodging our initial request to Heritage Victoria for heritage  registration on 16/12/2021, then seeing the old trees being felled on 18/1/22, the decision by the Heritage Council of Victoria was announced late February 2023.
We've now had a chance to read over and consider the 45 pages – a pleasing result in some respects, disappointing in others. The big win is that all the Crown Land for Caulfield Racecourse is now on the Victorian Heritage Register.  Apart from the Permit Exemptions decided upon by the Council and various Heritage Permits already granted, changes to that part of the Racecourse now require Heritage Permits from Heritage Victoria.  (Note – the Freehold land including the Community and Booran Lodge Stables is largely not included in this.)
The full decision is available here https://heritagecouncil.vic.gov.au/registrations-reviews/registration-decisions/
Indigenous History of Glen Eira
Professor Ian Clark will speak via Zoom to the Glen Eira and St Kilda Historical Societies on his research into the indigenous history of Glen Eira. He will provide an overview of the Woiwurrung and Boonwurrung history of the City of Glen Eira, focussing on the places that were important in the early colonial period and the legacy of leading personalities such as Derrimut.
Please note this joint event will be live streamed upstairs in the St Kilda Army and Navy Club, 88 Acland Street, St Kilda on Sunday 5 March 2023 at 4pm. This is a free event but bookings are required.
Our November 2022 newsletter is now available here
The story of the Caulfield Tramway continues in the latest edition of  Melbourne Tram Museum's newsletter The Bellcord click here
About Us
Founded in 1972 the Caulfield Historical Society's early work led to significant buildings such as Myoora, Halstead and Lirrewa gaining heritage protection at a time when many historic buildings were under threat of demolition.
In 1994, the City of Caulfield merged with the northern part of the City of Moorabbin and became the new City of Glen Eira. Some years later the Caulfield Historical Society changed its name to the Glen Eira Historical Society, to reflect the whole municipality of Glen Eira. View Map
Professor Ian Clark will speak via Zoom to the Glen Eira and St Kilda Historical Societies on his...