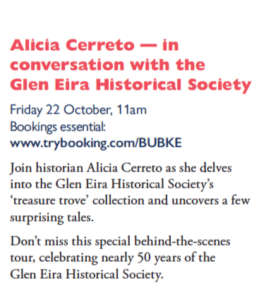 If you missed our conversation with Alicia Cerreto, here's the youtube recording
https://www.youtube.com/watch?v=rvS2viiytHI
Glen Huntly Rd – street numbers
We've devised a list which shows the street numbering changes in Glen Huntly Rd from the 1930s to 1960s. A very useful resource when checking old addresses.
Student interns
We have two student interns from Monash University working with us, as part of their third year history studies. They are busy transcribing oral histories, identifying house photographs, researching and gaining insight into possible career paths for history graduates.
GEHS turns 50 in 2022!
We have started planning how to celebrate our 50th anniversary in 2022. Stay tuned.