Visit Us
Due to ongoing Covid restrictions we remain closed to the public and are still mostly working from home.
We may still be able to arrange appointments so feel free to contact us via email.
Our Collection
We have the largest and most comprehensive collection of material relating to the history of Glen Eira. Our collection is a valuable resource for those researching the history of their house and suburb, for family historians, students and other researchers. Some of our collection can viewed below.
For research enquiries contact us any time. Email is best but you can also leave a phone message.
Latest News
Our AGM/Speaker Series, 7.30pm Wed 28 July 2021 via Zoom features a talk by historian Andrew Lemon
"A New Look at the History of the Caulfield Racecourse"
Click here to register for the Zoom link
Few Melburnians have ever complained that the great acreage of Flemington Racecourse had been set aside from the earliest colonial period as a public racecourse. It has long been seen as an asset and ornament to Melbourne, and It rightly has a place on Australia's National Heritage List. 
Yet Caulfield Racecourse, whose history is almost as long, and which is nationally recognised as one of the great racecourses of Australia and has made the suburb famous, has always been a bone of contention, particularly in its own neighbourhood. Over the decades, in the imagination of some, 'the heath' could better have been used as a cemetery, a thoroughfare, a housing estate, a university, public park, swimming baths, anything….  And yet Caulfield Racecourse endures. More recently its future as a centre for the training of racehorses has been under question.
In this talk, racing historian Andrew Lemon – author of the three volume The History of Australian Thoroughbred Racing  –  will look at the long history of Caulfield Racecourse and its place in the Australian story, and will reflect on the numerous campaigns and controversies surrounding this piece of crown land in the heart of metropolitan Melbourne. 
About Us
Founded in 1972 the Caulfield Historical Society's early work led to significant buildings such as Myoora, Halstead and Lirrewa gaining heritage protection at a time when many historic buildings were under threat of demolition.
In 1994, the City of Caulfield merged with the northern part of the City of Moorabbin and became the new City of Glen Eira. Some years later the Caulfield Historical Society changed its name to the Glen Eira Historical Society, to reflect the whole municipality of Glen Eira. View Map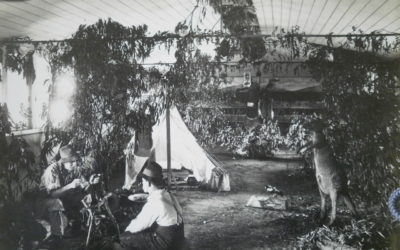 Christmas Day 1918, Caulfield Military Hospital
Along the line – Caulfield to Oakleigh rail stories $30
In 1993 Caulfield Council gave Caulfield Historical Society permission to use the old Town seal of...