Visit Us
Christmas and January closure dates
Please note we will be closed from 12pm Tuesday 12th December 2023 and will re-open 9am on Tuesday 6th February 2024.
During the holidays we will be checking emails less frequently but you can still contact us via email.
We are open from 9am-1pm on  Tuesdays (except for Christmas/January closure dates) and appointments are preferred.
Appointments at other times may be arranged.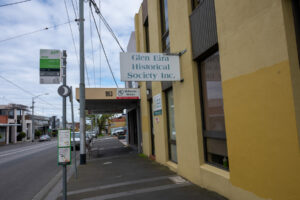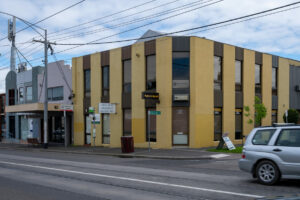 In 1935 our building looked like this: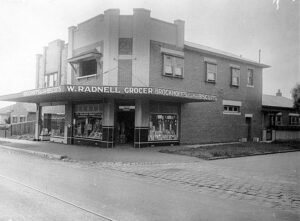 W Radnell Grocer c1935, corner of Fallon St and Glen Huntly Rd, site of GEHS today. (Source Museums Victoria)
Our Collection
We have the largest and most comprehensive collection of material relating to the history of Glen Eira. Our collection is a valuable resource for those researching the history of their house and suburb, for family historians, students and other researchers. Some of our collection can viewed via the Victorian Collections link below.
For research enquiries contact us any time. Email is best but you can also leave a phone message.
Latest News
Newsletter – Our November edition is out now Click here
Includes articles on –
100 years of North Road Medical
GEHS pottery display
50th anniversary of end of Australia's involvement in Vietnam War
The 1923 Police Strike
The Camden Hotel (formerly London Tavern) celebrates 150 years
A report on our Speaker Series talk on The Parliamentary Library
Glen Huntly Tram Depot: 100 years
Read about the history of the Glen Huntly Depot in the September issue of The Bellcord, the newsletter of the Melbourne Tram Museum.
Issue 59 The Bellcord September 2023.pdf
About Us
Founded in 1972 the Caulfield Historical Society's early work led to significant buildings such as Myoora, Halstead and Lirrewa gaining heritage protection at a time when many historic buildings were under threat of demolition.
In 1994, the City of Caulfield merged with the northern part of the City of Moorabbin and became the new City of Glen Eira. Some years later the Caulfield Historical Society changed its name to the Glen Eira Historical Society, to reflect the whole municipality of Glen Eira. View Map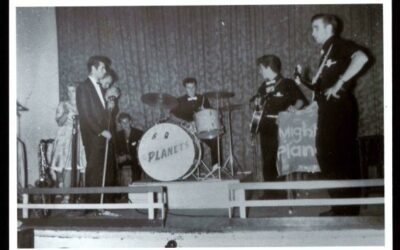 The Planets, Ormond RSL 1958 (Australian Performing Arts Museum Collection)
WWI sites in the City of Glen Eira During the Centenary of WWI, back in 2014, we published a WWI...
Learn about the history of the Caulfield mansion Heatherbrae, then learn how to start getting...